Adding a photo to your article requires finding appealing images that relate to your content and fit the theme of the blog and magazine.
Upon writing your article (following the guidelines outlined in the Writer's Guidebook), you will select a photo to be published alongside your story.
Select and add a photo to your submission using the procedure outlined below.
Adding a Photo:
Be familiar with the Blog and Magazine: spend a few minutes skimming through articles and getting a feel for the types of photos we typically publish.
Step 1: Find a photo
Now that you've written your awesome article, it's time to find an accompanying photo. Try to only use the sites below for finding images or sites that allow image usage (creative commons or no rights reserved photos). Photos before the 1920s are safe to use, so feel free to get creative. Photographs on any U.S. government site are public domain, so check out sites like USAID, CIA World Factbook, whitehouse.gov, etc.
*When choosing photos from Flickr, please do not use photos with the label "All Rights Reserved." Photos with the label "some rights reserved" are okay to use.
Take a look at the video below to learn how to properly search for open source photos in Google images. Disregard the portion of the video that instructs you to download the photo to your computer. Instead, you will simply be copy and pasting the URL of the photo.
Step 2. Add a link: Copy the photo URL and paste the link to your photo at the bottom of your article (after your name). Our editors will use this link to download the photo and credit the original source of the image before publishing your article.
Note: Do not use images from photographer websites and/or any website that charges for images.
Quick Checklist
Selecting a photo:

Does it look good? Image isn't over tinted (image should be clear and not blurry). In order for the photo to appear clear, it needs to be high-quality. The minimum resolution for a photo should be 530 x 400.
Is it in color? The photo should be in color, not black-and-white.
Is it a rectangle? Try to stick to rectangular photos; square photos do not work as well with the format of our publications.

Giving credit:

Did you cite the photo's source at the bottom of the article, following your name?
Biggest Mistakes in Photo Selection
Boring photos and excessive poverty photos. Yes, most articles relate to global poverty, but that doesn't mean every article needs a photo of impoverished people. For example, instead of adding a photo of poor people to an article about poverty dropping in Nigeria, try using a photo of the famous boxer Muhammad Ali standing victorious over an opponent that he just knocked out. Get creative! Good images help articles get read!
Over-processing. If the image isn't clear, don't use it. Not every image will look good with a filter, especially smaller images.
TIPS FOR PICKING PHOTOS
Be mindful of the photos you choose to use with your articles. Consider what the image portrays and what message it conveys as a representation of the content of your article.
The caption section on Flickr is a great guide for helping to choose an image. For example, let's say you're choosing a photo for your article about clean water projects in Nepal. The photo on the left depicts Nepal's USAID Paani Program which helps to manage water resources through conservation of freshwater biodiversity. The image was also taken by a USAID employee. The photo on the right depicts a child drinking water but we know nothing about the facts of the image. The best image to use is the image on the left as it provides context and agency to those in the photo.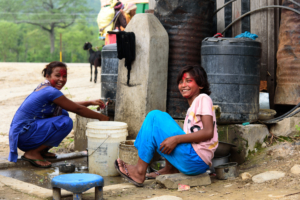 Description: "Access to clean water is one of the most important resources for communities. 

The USAID Paani program will enhance Nepal's ability to manage water resources for multiple uses and users through climate change adaptation and the conservation of freshwater biodiversity. 

Photo by Olaf Zerbock, USAID."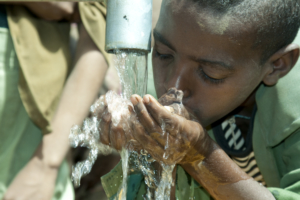 Description: "Words cannot explain how good it feels to see these children drinking clean water."
Whenever possible, use creative or funny images. In the past, we've struggled with the blog and magazine being an endless stream of articles showing pictures of poor people… While our focus is global poverty, we would like to visually cover the topic with a limited number of doom and gloom photos. Below are a few good examples of thinking outside the box. Spend some time on other news sites, what images draw you in?