WIN A ONCE IN A LIFETIME OPPORTUNITY!
Would you like to head to Washington, D.C. this May to lobby Congress with Clint Borgen and The Borgen Project's Board of Directors? We will select one lucky winner to attend Congressional meetings and watch the magic happen first hand.
Eligibility Requirements:
Any volunteer or intern who has met the following requirements will be entered into a drawing for an all expenses paid trip to D.C. to lobby on behalf of the world's poor:
Completed three (3) Congressional meetings in their state OR
Mobilized the most people to email Congress through The Borgen Project's Action Center. Please send your manager a list of the people you mobilize. As a frame of reference, our 2018 winner mobilized 313 people to email Congress!
Deadline for Eligibility:
April 12th
Political Updates
Lobbying Efforts
Total # of Lobbying Meetings in February: 29
Total # of Lobbying Meetings in 2019: 42
Lobbying Meetings Goal for 2019: 775
Advocacy Emails
Number of Advocacy Emails in February: 1,310
Advocacy Emails Goal for 2019: 80,000
% of Congress Emailed in February: 82%
Congressional Office Meetings
Regional Director Moise Dzogolo met with Kamal Fulani, Deputy Director of the North Texas office of Senator John Cornyn (R – TX).

Warren's Address
Listen to the latest from Warren about the goings-on in D.C.
Content Team Updates
February was the second highest web traffic month for borgenproject.org in the history of the organization!
Professional Development Help
We are pleased to offer professional development help to our interns. To find out more go to: https://borgenteam.org/professional-development-help/
Recognition
Congratulations to the following team members that have achieved Borgen Project Honors & Recognition.
Chief Closer Award (raised $1,000 or more): Kyle Dunphey and Natalie Dell, Content Team
President's Circle (held 3 congressional meetings): Maria Castrogiovanni, Political Affairs Team
Public Outreach Award (

50 or more people mobilized)

: Charlotte Kriftcher, Content Team
Visit the Our Team Members page and read about success stories with our organization.
Getting the Word Out
PR/Marketing Team member Alex Van Valkenburgh spread the word about TBP while at the beach.

One-Mile Campaigns
Political Affairs Team member Kimberly Peterson completed her One-Mile Campaign at Mississippi College.

Political Affairs Team member Julya Generoso posted fliers for her 1-mile campaign in Pottsville, Philadelphia.

Podcast
PR/Marketing and HR Team member Nevada McOwen created a podcast. Faith in humanity: A podcast about ending poverty. To list to more of Nevada's work, please visit: https://anchor.fm/nevie
Instagram
Political Affairs Team member Maggie Wells created a graphic about contacting Congress and posted it to her Instagram page. Instagram is a fantastic platform to circulate information about TBP and global poverty.

Letters to the Editor
Blog Posts
Outreach & Mobilizing Materials
Take a look at these branding campaign materials created by PR/Marketing Team member Krithi Sekaran.
Krithi also created a Borgen Project event flyer:

PR/Marketing Team member Makena Boling created a Borgen Project brochure.

PR/Marketing Team member Cindia Escalante Vinuesa created pamphlets to hand-out at her bake sale.
Fundraising campaign materials created by PR/Marketing Team member Paula Ruiz: "We Fight for the Underdogs"

HR Team member Carol Alcantar created a poster to hang around her school campus and at local coffee shops.

PR/Marketing Team member Alexis Blacknik created a variety of posters for her internship, including a set of graphics to go with her Venmo challenge

PR/Marketing Team member Olivia Fowler produced a set of watercolor posters to market for TBP.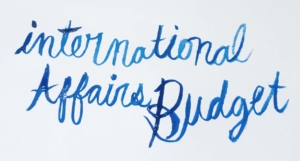 Fundraising
Looking for creative ways to fundraise? Content Team member Michela Rahaim has been raising money to help end global poverty and hunger by walking dogs. Michela has raised $86 from walking dogs, such as Sadie (pictured below).

Human Resource Team member Jennifer Irwin held a bake sale and raised $200!  Bake sales are a fantastic and delicious way to fundraise.

Videos
PR/Marketing Team member Cindia Escalante Vinuesa: "Draw My Life"

Political Affairs Team member Julya Generoso gives us an update about her internship and fundraising progress thus far.

Political Affairs Team member Jean Santiago creates a swarm to get people to email Congress

https://borgenteam.org/wp-content/uploads/2018/10/The_Borgen_Project_Logo_small.jpg
0
0
team
https://borgenteam.org/wp-content/uploads/2018/10/The_Borgen_Project_Logo_small.jpg
team
2019-03-14 09:39:19
2019-03-18 11:36:06
State of the Union March 2019