Political Updates
Lobbying and Advocacy Efforts
Total # of Lobbying Meetings in July: 10
Total # of Lobbying Meetings in 2021: 172
Lobbying Meetings Goal for 2021: 700
Advocacy Emails
Total # of Advocacy Emails in July: 21,061
Total # of Advocacy Emails in 2021: 123,420
Advocacy Emails Goal for 2021:

330,000

% of Congress Emailed Year to Date: 100%
Congressional Office Meetings and Bird Dogging
Updates from DC
Listen in to hear all of the latest updates from DC.
Recognition
Congratulations to the following team members who have achieved Borgen Project Honors & Recognition
Honors Award (raised $3,000 or more):

Nonprofit Leadership Team: Kaitlyn Evans

Capital Achievement Award (raised $2,000 or more):

Political Affairs Team: Stephen Crotty
Nonprofit Leadership Team: Macklin Fishman, Ripra Gupta

Chief Closer Award (raised $1,000 or more):  

HR Team: Roseanna Grega, James Kostick, Rachel Wolf,

Abby Rodler

Political Affairs Team: Josh Chaiken, Asha Prabhat, Alexandra Singer, Jesse Davis, Langley Sebastian, Louisa Palker, Katherine Catulle, Parker Brandt, Sarah Danon, Casimir Stopa, Catherine McGuire, David Koster, Juliet Costell, Annie Berlin
Content Team: Ava Shusteman, Alessandra Heitmann, Jaya Patten, John Dunkerley, Mariam Abaza,

Hayley Welch

PR/Marketing Team: Rachel Lambros, Grace Mead, Katherine Ardesia, Sofia Stillman, Jordan Fisch,
Nonprofit Leadership Team: Sophie Picozzi, Julia Drake, Julia Bous, Andrea Peterson, Rachel Harvey, Ella Bamer,

Kayla Hoelscher

Bird-Dog Award: 

Political Team: Venus Wang, Elisa Thomas, Leila Nam, Patrick Hotchkiss, Olivia Acosta, Abbie Levine,
Olivia Berman, Sarah Danon, Rachel Yeung,

Jaisnav Rajesh

President's Circle Award (Mobilized 50+ people):

Political Team: Vasti Carrion, Shruti Nallappa, Saumya Gunampalli, Sean Dedmon, Taryn Peterson,
Zoe Brewin, Sarah Danon, Riley Konrad, Rose Hetz, Ryan Kobe, Gabriella Waddington

Articles of the Month:
Congratulations to Regional Director Venus Wang who completed her Editor's Certificate Training last week. Venus is the second person to complete the program and is now an editor for the Blog and Magazine! Well done, Venus!
Visit the Our Team Members page and read about success stories with our organization.
Getting the Word Out
Swarms
Information Events
One-Mile Campaigns & Mobilizing
Letters to the Editor
Political Affairs Team
Cassidy Vangieri

in The Reading Eagle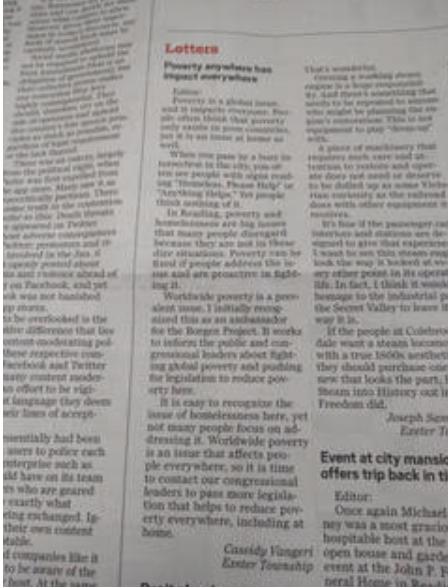 Nonprofit Leadership Team
Content Team 
HR Team 
PR/Marketing Team 
Regional Director
Outreach & Mobilizing Materials
The following set of 5 infographics were created by Regional Director, Alexa Blake Sinclair, for the Keeping Girls in School Act
Fundraising
TikTok
Jordan Worthington, PR/Marketing Team
The Borgen Project is on TikTok! Give us a follow @theborgenproject.
Have an idea for a TikTok? Please email them [email protected].
https://borgenteam.org/wp-content/uploads/2018/10/The_Borgen_Project_Logo_small.jpg
0
0
admin
https://borgenteam.org/wp-content/uploads/2018/10/The_Borgen_Project_Logo_small.jpg
admin
2021-08-10 03:21:57
2021-08-10 03:21:57
State of the Union August 2021